Happy New Year from Paperlicious.com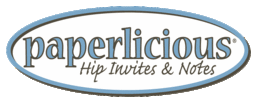 To Our Favorite Customers...
As 2011 begins, I would like to thank you for the opportunity to serve you during the past few years. Seeing some of your most important life events pass through this office is an honor, and getting a peek at your newborn photos and holiday cards is a definite highlight of our year. And yes, your menu cards usually make us very hungry.
Your purchases help us to support some of our favorite charities like Juvenile Diabetes Reserach Foundation, March of Dimes, Project Peanut Butter, Smile Train, and Operation Happy Note.
I have to tell you- there are some really awesome people out there- throwing baby showers, planning surprise parties, getting families together for holiday memories. When you take the time to send something so personal, whether it is an invitation, a photo card, or just a note, you are creating a memory for someone else too.
Thanks for including Paperlicious in some of your most important days. We look forward to helping you celebrate more milestones and happy moments.
We wish you a very hopeful, healthy, and happy 2011.
Best,
Amy DeRouen Nelson
Owner
Paperlicious LLC
www.paperlicious.com
1-877-540-4667